VW AXQ engine for sale, reconditioned and used engines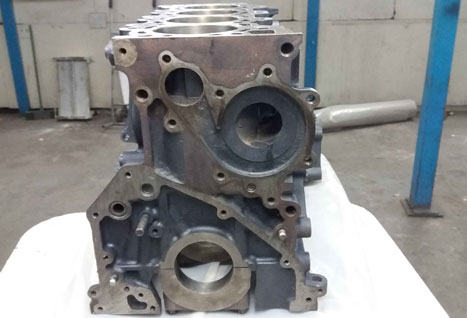 AXQ Engine Detail
Average Price : £ 3071.09 Incl.VAT
Get Free Quote
Condition :Remanufactured
a fully reconditioned engine block
Specification:
Average Price Quote

Engine Fuel
Petrol
Engine Layout
V
Engine Actual CC
4172 cc
Engine Size
2.5
Engine Valves
40
Engine Cylinders
8
Engine Horse Power
310 HP
Engine Power Kilo Watt
228 kW
Engine Fuel Supply
Intake Manifold Injection/ Carburettor
Engine Code
AXQ
Engine Camshaft Drive
Engine Charge
Engine Cooling
Volkswagen AXQ Engine
Are you looking for a VW AXQ Petrol engine for your Volkswagen Touareg? You've landed at the perfect place for that. EngineTrust.co.uk is a UK-based company where sellers from all over the UK list the best VW engines. All you need to do is enter your details, and the driver choice and our team will give you a free price quote on the available engines. Upon choosing an engine, you'll be redirected to the seller which possesses that driver so that you can arrange the AXQ driver delivery with them. We offer all our services free of cost.
Volkswagen manufactures all kinds of cars for its ever-growing contingent of customers and has its vehicles in just about all automobile categories as of now. Among them are high-quality SUVs, which are some of the best in the business. To maintain a high standard of vehicles, having top-notch engines is of utmost importance, and the AXQ codenamed Petrol driver fits the bill perfectly.
AXQ Engine Details
The Volkswagen AXQ engine is the most powerful option among all others in the SUV series produced by VW. Other choices include Diesel engines, but none can match the power of the AXQ. It is a 2.5-litre eight-cylinder Petrol engine with forty engine valves. It has a 310hp power in horsepower and 228kW power in kilowatts. It is a 4172cc capacity engine where fuel supply is made possible by the Carburetor.
Cars with the AXQ Engine Option
The only SUV that comes with the AXQ engine is the Volkswagen Touareg, which included this driver from 2002 till 2010. The Petrol option is far superior to the other Diesel options that come with the SUV and produce a great balance between performance and comfortability.
AXQ

Engine Fits These Models
| Series | Model | Year | Fuel | Engine Size | Horse Power | Body Type | KW | |
| --- | --- | --- | --- | --- | --- | --- | --- | --- |
| Touareg | Touareg | 2002 - 2010 | Petrol | 2.5 | 310 | Closed Off-Road Vehicle | 228 | Get Free Quote |
Other
Vw

Parts You Can Find Here