Mercedes OM 651.955 Engine for Sale, Reconditioned and Used Engines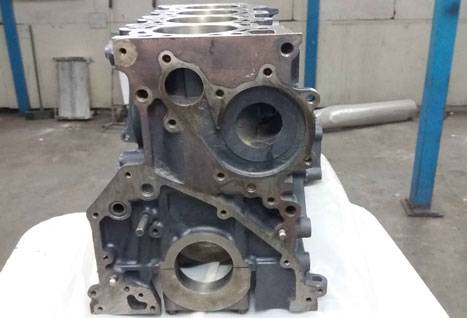 OM 651.955 Engine Detail
Average Price : £ 3285.62 Incl.VAT
Get Free Quote
Condition :Remanufactured
a fully reconditioned engine block
Specification:
Average Price Quote

Engine Fuel
Diesel
Engine Layout
Straight
Engine Actual CC
2143 cc
Engine Size
2.1
Engine Valves
16
Engine Cylinders
4
Engine Horse Power
95 HP
Engine Power Kilo Watt
70 kW
Engine Fuel Supply
Direct Injection
Engine Code
OM 651.955
Engine Camshaft Drive
Engine Charge
Exhaust Turbo Charger
Engine Cooling
Buy Mercedes-Benz OM 651.955 Engines Online
Undoubtedly, OM 651.955 engine is the actual force behind the iconic and majestic Mercedes vehicles that is the collective force of its moving parts and thus converts chemical fuel energy into wheels' motion. This powerful 2.1 litre engine, has the power of 95 horsepower. With 16-engine valves and 2143 CC, engine fuel system is of direct injection. This engine is being fitted in various models of Sprinter since 1995.
Amidst the legendry brands of automobiles, the Mercedes-Benz occupies a prominent place which is unmatched and unparalleled. It is pertinent to mention here that even the three-pointer Mercedes Badge is revered by its lovers. The company produces luxurious cars, buses, trucks and much more. One thing is for sure that all the products of Mercedes-Benz are adorned with uniqueness and innovated technologies. That is rightly claimed; it is the choice of elites.
Dire Need of Replacement
Time worn Mercedes-Benz engines are prone to exhibit some problems, that is why caring motorists deem it their earnest duty to replace it with some engine in better condition. That may be some used OM 651.955 engine or some reconditioned OM 651.955 engine to have.
Have the Best OM 651.955 Used and Reconditioned Engines to Marvel at
Our exquisite and top-notch portal which have you selected now, is the choice of zillions to quench their thirst of finding Mercedes-Benz OM 651.955 used and reconditioned engines. These used engines are of superb quality with extremely low mileage whereas the reconditioned engine too, are the cream of the pick for you.
Common Problems Jaundiced
There is no denying that up-kept engines thrives well for longer period even after their limit. But laxity and careless handling of this Mercedes-Benz OM 651.955 engine leads to a catastrophe. And you are always under unrest by having one problem or another. So make its replacement instantly.
OM 651.955

Engine Fits These Models
| Series | Model | Year | Fuel | Engine Size | Horse Power | Body Type | KW | |
| --- | --- | --- | --- | --- | --- | --- | --- | --- |
| Sprinter | Sprinter 3,5-T Box | 2006 - continue | Diesel | 2.1 | 95 | Box | 70 | Get Free Quote |
| Sprinter | Sprinter 3,5-T Bus | 2006 - continue | Diesel | 2.1 | 95 | Bus | 70 | Get Free Quote |
| Sprinter | Sprinter 3,5-T Minibus | 2006 - continue | Diesel | 2.1 | 95 | Bus | 70 | Get Free Quote |
| Sprinter | Sprinter 3,5-T Platform/Chassis | 2006 - continue | Diesel | 2.1 | 95 | Platform/Chassis | 70 | Get Free Quote |
| Sprinter | Sprinter 3,5-T Van | 2006 - continue | Diesel | 2.1 | 95 | Van | 70 | Get Free Quote |
| Sprinter | Sprinter 3-T Box | 1995 - 2006 | Diesel | 2.1 | 95 | Box | 70 | Get Free Quote |
| Sprinter | Sprinter 3-T Bus | 1995 - 2006 | Diesel | 2.1 | 95 | Bus | 70 | Get Free Quote |
| Sprinter | Sprinter 3-T Minibus | 1995 - 2006 | Diesel | 2.1 | 95 | Bus | 70 | Get Free Quote |
| Sprinter | Sprinter 3-T Platform/Chassis | 1995 - 2006 | Diesel | 2.1 | 95 | Platform/Chassis | 70 | Get Free Quote |
| Sprinter | Sprinter 3-T Van | 1995 - 2006 | Diesel | 2.1 | 95 | Van | 70 | Get Free Quote |
| Sprinter | Sprinter 4,6-T Box | 2006 - continue | Diesel | 2.1 | 95 | Box | 70 | Get Free Quote |
| Sprinter | Sprinter 5-T Box | 2006 - continue | Diesel | 2.1 | 95 | Box | 70 | Get Free Quote |
| Sprinter | Sprinter 5-T Platform/Chassis | 2001 - 2006 | Diesel | 2.1 | 95 | Platform/Chassis | 70 | Get Free Quote |
| Sprinter | Sprinter 5-T Van | 2006 - continue | Diesel | 2.1 | 95 | Van | 70 | Get Free Quote |
Other
Mercedes-benz

Parts You Can Find Here