BMW N57 D30 B engine for sale, recon and second hand stock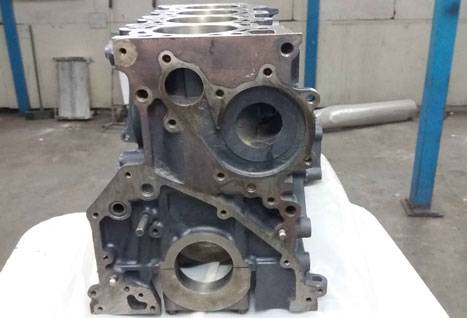 N57 D30 B Engine Detail
Average Price : £ 3429.63 Incl.VAT
Get Free Quote
Condition :Remanufactured
a fully reconditioned engine block
Specification:
Average Price Quote

Engine Fuel
Diesel
Engine Layout
Straight
Engine Actual CC
2993 cc
Engine Size
3
Engine Valves
24
Engine Cylinders
6
Engine Horse Power
299 HP
Engine Power Kilo Watt
220 kW
Engine Fuel Supply
Direct Injection
Engine Code
N57 D30 B
Engine Camshaft Drive
Engine Charge
Turbo/Intercooler
Engine Cooling
BMW N57 D30 B Engine
BMW headquartered in Munich, Germany, is well known name in automobiles. It was associated earlier, with building aircraft, car and motorcycle engines. The company has long history in this regard and now it is producing luxurious cars and motorcycles. Each model of BMW is more stunning than the last. The use of best technology and pursuit of perfection are its main objectives.
A Versatile and Unique Engine
An acronym in BMW, the M i.e. Motoren means engines that explicitly conveys the expertise that how skillfully it adorns engines. Being durable, innovative and reliable, these BMW engines are admired by all. Like this BMW N57 D30 B Engine, all the engines of BMW are of superb quality having exquisite reputation. The BMW N57 D30 B is diesel 3.0 liters engine. With 2993 cc, it has 24 valves and 6 cylinders. In so far as fuel supply is concerned, this engine is based on direct injection.
Top-Notch Portal to Access Low Mileage Used and Reconditioned Engine
Replacement engine, truly speaking, is the fate of every engine in its life cycle. There is no arguing that BMW engines are cream of the pick and company puts bells and whistles on every engine. But normal wear and tear cannot keep this BMW N57 D30 B Engine aloof.
It is a fact that engine replacement is a daunting task and you must be possessing certain awareness about it. Engine Trust have vast network of engine sellers from all over the UK. You can have your desired engine through our engine sellers.
Common Problems
No doubt this BMW N57 D30 B Engine, is sturdy and long lasting but after all it is a machine. Normal wear and tear or sudden damage due to some accidents, affect it and you need its replacement. You will be having excessive consumption of fuel and white smoke in this problem.
N57 D30 B

Engine Fits These Models
| Series | Model | Year | Fuel | Engine Size | Horse Power | Body Type | KW | |
| --- | --- | --- | --- | --- | --- | --- | --- | --- |
| 3 Series | 335D Xdrive | 2011 - continue | Diesel | 3 | 299 | Saloon | 220 | Get Free Quote |
| 4 Series | 435D Xdrive | 2013 - continue | Diesel | 3 | 299 | Coupe | 220 | Get Free Quote |
| 4 Series | 435D Xdrive Gran Coupe | 2014 - continue | Diesel | 3 | 299 | Coupe | 220 | Get Free Quote |
| 5 Series | 535D | 2001 - 2016 | Diesel | 3 | 299 | Saloon | 220 | Get Free Quote |
| 5 Series | 535D Xdrive | 2009 - 2016 | Diesel | 3 | 299 | Hatchback | 220 | Get Free Quote |
| 6 Series | 640D | 2010 - continue | Diesel | 3 | 299 | Convertible | 220 | Get Free Quote |
| 6 Series | 640D Xdrive | 2010 - continue | Diesel | 3 | 299 | Convertible | 220 | Get Free Quote |
| 7 Series | 740D | 2008 - 2015 | Diesel | 3 | 299 | Saloon | 220 | Get Free Quote |
| 7 Series | 740D Xdrive | 2008 - 2015 | Diesel | 3 | 299 | Saloon | 220 | Get Free Quote |
| X3 | Xdrive 35 D | 2003 - 2011 | Diesel | 3 | 299 | Closed Off-Road Vehicle | 220 | Get Free Quote |
| X5 | Xdrive 40 D | 2006 - 2013 | Diesel | 3 | 299 | Closed Off-Road Vehicle | 220 | Get Free Quote |
Other
BMW

Parts You Can Find Here