BMW N47 D16 A engine for sale, used & reconditioned engines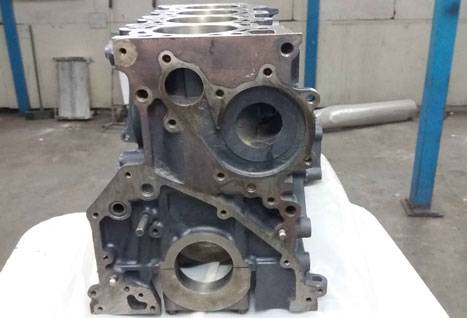 N47 D16 A Engine Detail
Average Price : £ 2258.62 Incl.VAT
Get Free Quote
Condition :Remanufactured
a fully reconditioned engine block
Specification:
Average Price Quote

Engine Fuel
Diesel
Engine Layout
Straight
Engine Actual CC
1598 cc
Engine Size
1.5
Engine Valves
16
Engine Cylinders
4
Engine Horse Power
95 HP
Engine Power Kilo Watt
70 kW
Engine Fuel Supply
Direct Injection
Engine Code
N47 D16 A
Engine Camshaft Drive
Engine Charge
Engine Cooling
BMW N47 D16 A Engine
Bayerische Motoren Werke AG or just BMW, is a German Automaker headquartered in Munich, Germany. It started its business with engine making of aircraft, cars and motorcycle in 1916. Later on it involved in manufacturing of luxurious cars and motorcycles. With innovative technologies, BMW emerged as legendry car maker.
A Reliable and Powerful Engine
BMW has on its credit of many accolades and prestigious rewards like 'Engine of the Year'. It has allured all its consumers across the globe. You must be familiar with the BMW engine code of your BMW to avoid inconvenience in the market. This BMW N47 D16 A Engine is 1.5 litres diesel engine with 1598 cc. The engine is 4-Cylinder and has a power of 95 HP. This engine fits in models of 1-Series.
Engine Replacement Available with Low Mileage Used or Reconditioned Engines
Engine replacement is one of the must-have that you have to have to get rid of troubling old engine. This is not something new that you are having as with the passage of time, engine is exhausted and loses its strength. It always prone to have some defect. And you are forced to go for replacement engine with used or reconditioned engine.
Our Unbeatable Online Service Allures You
Engine Trust is portal that has made specific arrangement to buy an engine. There are various engine sellers on our network from all over the UK. To access this portal, you have to enter your car registration number into the box provided. Very next moment, you will receive a free quote from our engine seller. We never compromise on price and quality.
Usual Problems Encountered by BMW N47 D16 A Engine
As the mileage on odometer increases, at certain stage engine stops working efficiently. Now you may face a new engine problem daily, like overheating and white smoke. This indicates the engine failure leading to its replacement.
N47 D16 A

Engine Fits These Models
| Series | Model | Year | Fuel | Engine Size | Horse Power | Body Type | KW | |
| --- | --- | --- | --- | --- | --- | --- | --- | --- |
| 1 Series | 114D | 2010 - continue | Diesel | 1.6 | 95 | Hatchback | 70 | Get Free Quote |
| 1 Series | 116D | 2003 - 2013 | Diesel | 1.5 | 95 | Hatchback | 70 | Get Free Quote |
Other
BMW

Parts You Can Find Here