BMW N13 B16 A engine for sale, reconditioned & used engines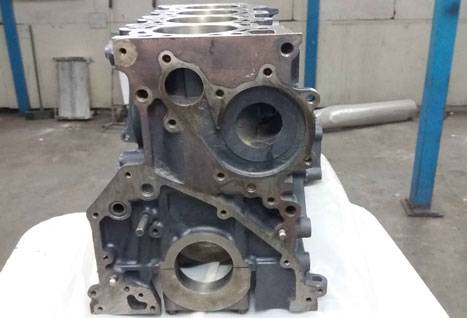 N13 B16 A Engine Detail
Average Price : £ 2550.03 Incl.VAT
Get Free Quote
Condition :Remanufactured
a fully reconditioned engine block
Specification:
Average Price Quote

Engine Fuel
Petrol
Engine Layout
Straight
Engine Actual CC
1598 cc
Engine Size
1.6
Engine Valves
16
Engine Cylinders
4
Engine Horse Power
102 HP
Engine Power Kilo Watt
75 kW
Engine Fuel Supply
Direct Injection
Engine Code
N13 B16 A
Engine Camshaft Drive
Engine Charge
Exhaust Turbo Charger
Engine Cooling
BMW N13 B16 A Engine
BMW is world's renowned automobiles company that produces luxury cars and motorcycles. Prior to it, the company was engaged in engine making of aircrafts, cars and motorcycles. Headquartered in Munich, Germany, BMW by utilizing the innovative technology, made superb BMW engines and cars. Many accolades are on its credit and all its models display majesty.
Potent Engine for Comfortable and Reliable Journey
BMW has used the best of best technology in designing the vehicles in general and engines in particular. Engine making is its special interest and have long experience in this field. Whether it is car or motorcycle or aircraft, BMW always takes painstaking care to create something unique. This BMW N13 B16 A, is 1.6 liters petrol engine and has a power of 102 HP. With 1598 cc, engine fuel supply is based on direct injection system.
Engine Replacement with Low Mileage Used Engines or Reconditioned Engines
It is pertinent to note that you have acquire replacement engine when you note that your engine is not responding well, despite all your maintenance regimen. It happens that when your odometer reaches at its maximum limit, then being a machine, engine fails to respond effectively and so need of engine replacement arises. For this purpose, you would find used low mileage or reconditioned engines to choose from.
Engine Trust, A Portal You Cherish to Click
The Engine Trust is the portal you are perching at now. Our long experience in this field makes it possible to provide you the best opportunity for having BMW N13 B16 A Engine. Our network of trusted engine suppliers from all over the UK, has best quality engines for you.
Common Problems You Could Have with BMW N13 B16 A Engine
Depending upon the extent of usage and your working schedule, engine moves on to give you a cozy ride. But owing to routine wear and tear, you come across some engine defects like puffs of white smoke and enhanced consumption of fuel. This clearly indicates the instant replacement of bad engine.
N13 B16 A

Engine Fits These Models
| Series | Model | Year | Fuel | Engine Size | Horse Power | Body Type | KW | |
| --- | --- | --- | --- | --- | --- | --- | --- | --- |
| 1 Series | 114I | 2010 - continue | Petrol | 1.6 | 102 | Hatchback | 75 | Get Free Quote |
| 1 Series | 116I | 2003 - 2013 | Petrol | 1.5 | 102 | Hatchback | 75 | Get Free Quote |
| 1 Series | 118I | 2003 - 2013 | Petrol | 1.6 | 102 | Hatchback | 75 | Get Free Quote |
| 1 Series | 120I | 2003 - 2013 | Petrol | 1.6 | 102 | Hatchback | 75 | Get Free Quote |
| 3 Series | 316I | 1998 - 2013 | Petrol | 1.6 | 102 | Saloon | 75 | Get Free Quote |
| 3 Series | 320I | 1998 - 2013 | Petrol | 1.6 | 102 | Saloon | 75 | Get Free Quote |
Other
BMW

Parts You Can Find Here