BMW B47 D20 A engine for sale, reconditioned and used engines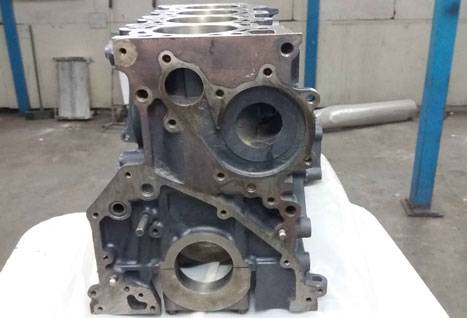 B47 D20 A Engine Detail
Average Price : £ 2297.15 Incl.VAT
Get Free Quote
Condition :Remanufactured
a fully reconditioned engine block
Specification:
Average Price Quote

Engine Fuel
Diesel
Engine Layout
Straight
Engine Actual CC
1995 cc
Engine Size
2
Engine Valves
16
Engine Cylinders
4
Engine Horse Power
116 HP
Engine Power Kilo Watt
85 kW
Engine Fuel Supply
Direct Injection
Engine Code
B47 D20 A
Engine Camshaft Drive
Engine Charge
Exhaust Turbo Charger
Engine Cooling
BMW B47 D20 A Engine
Adept at making inline-six engines in the history of engine making, BMW has distinction building innovative and sophisticated designs. At the time when most of companies have left this engine, BMW is sticking with it. Company has also produced inline-four and V8 engines. Until now, V8, V10, V12 and inline-three engines are built by BMW.
An Iconic BMW B47 D20 A Engine
BMW B47 D20 A is a legendry BMW Engine that has got much popularity. The unique and outstanding feature of this engine is its extra performance. The engine is equipped with high-tech and never creates any panic for you. This 2.0 liters diesel engine possesses a power of 116 HP. The engine with 1995 cc is 4-Cylnider and has exhaust turbo charger. So far as its fuel supply is concerned, it is of direct injection.
Shed Your Worries to Have Engine Replacement
It seems that you are troubled with your failed BMW B47 D20 A Engine. Then shed off your worries as now you have landed at right portal. Our portal of Engine Trust is assisted with the UK topmost engine sellers; whose engines are of low price but high quality. You are to just enter car registration number and our system would get the desired replacement engine details.
Engine Trust your Ultimate Choice
Engine Trust is the choice of zillions and second to none for making reliable engine deals. In an instant, you will get free quote from our trusted engine seller. So you are offered the best service we have in this context.
Common Problems with BMW B47 D20 A Engine
Surely BMW engines are hard enough but normal wear and tear or some accident makes the BMW B47 D20 A Engine unfit for working. And you will have to replace it certainly.
B47 D20 A

Engine Fits These Models
| Series | Model | Year | Fuel | Engine Size | Horse Power | Body Type | KW | |
| --- | --- | --- | --- | --- | --- | --- | --- | --- |
| 1 Series | 118D | 2003 - 2013 | Diesel | 2 | 116 | Hatchback | 85 | Get Free Quote |
| 1 Series | 118D Xdrive | 2010 - continue | Diesel | 2 | 116 | Hatchback | 85 | Get Free Quote |
| 1 Series | 120D | 2003 - 2013 | Diesel | 2 | 116 | Hatchback | 85 | Get Free Quote |
| 1 Series | 120D Xdrive | 2010 - continue | Diesel | 2 | 116 | Hatchback | 85 | Get Free Quote |
| 2 Series | 218D | 2012 - continue | Diesel | 2 | 116 | Coupe | 85 | Get Free Quote |
| 2 Series | 220D | 2012 - continue | Diesel | 2 | 116 | Coupe | 85 | Get Free Quote |
| 2 Series | 220D Active Tourer | 2013 - continue | Diesel | 2 | 116 | Estate | 85 | Get Free Quote |
| 2 Series | 220D Xdrive | 2012 - continue | Diesel | 2 | 116 | Coupe | 85 | Get Free Quote |
| 2 Series | 220D Xdrive Active Tourer | 2013 - continue | Diesel | 2 | 116 | Estate | 85 | Get Free Quote |
| 3 Series | 318D | 1998 - 2012 | Diesel | 2 | 116 | Saloon | 85 | Get Free Quote |
| 3 Series | 318D Xdrive | 2011 - continue | Diesel | 2 | 116 | Saloon | 85 | Get Free Quote |
| 3 Series | 320D | 2004 - 2013 | Diesel | 2 | 116 | Saloon | 85 | Get Free Quote |
| 3 Series | 320D Xdrive | 2004 - 2013 | Diesel | 2 | 116 | Saloon | 85 | Get Free Quote |
| 4 Series | 418D | 2013 - continue | Diesel | 2 | 116 | Coupe | 85 | Get Free Quote |
| 4 Series | 420D | 2013 - continue | Diesel | 2 | 116 | Coupe | 85 | Get Free Quote |
| 4 Series | 420D Gran Coupe | 2014 - continue | Diesel | 2 | 116 | Coupe | 85 | Get Free Quote |
| 4 Series | 420D Xdrive | 2013 - continue | Diesel | 2 | 116 | Coupe | 85 | Get Free Quote |
| 4 Series | 420D Xdrive Gran Coupe | 2014 - continue | Diesel | 2 | 116 | Coupe | 85 | Get Free Quote |
| 5 Series | 518D | 2009 - 2016 | Diesel | 2 | 116 | Saloon | 85 | Get Free Quote |
| 5 Series | 520D | 2001 - 2016 | Diesel | 2 | 116 | Saloon | 85 | Get Free Quote |
| 5 Series | 520D Xdrive | 2009 - 2016 | Diesel | 2 | 116 | Saloon | 85 | Get Free Quote |
| X3 | Sdrive 18 D | 2010 - continue | Diesel | 2 | 116 | Closed Off-Road Vehicle | 85 | Get Free Quote |
| X3 | Xdrive 20 D | 2003 - 2011 | Diesel | 2 | 116 | Closed Off-Road Vehicle | 85 | Get Free Quote |
| X3 | Xdrive 20D | 2017 - continue | Diesel | 2 | 116 | Closed Off-Road Vehicle | 85 | Get Free Quote |
Other
BMW

Parts You Can Find Here